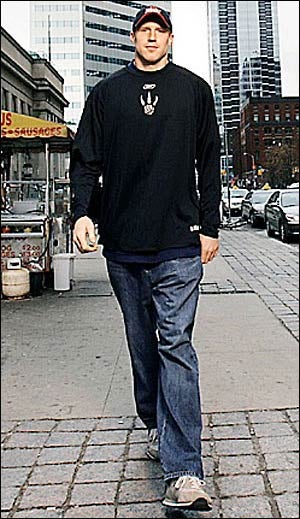 It's hard to believe, but the NBA season is just around the corner. Let us celebrate with five tiny tidbits on each team. Today we begin the Southwest Division, so do us a favor and send us your tips at tips@deadspin.com.
• 1. An Underhanded Trick. Brent Barry is the son of Hall of Famer (and now KNBR-680 San Francisco radio talk host) Rick Barry and is considered the best player of the four Barry sons (Scooter, Jon and Drew are the others). Brent Barry played high school basketball at De La Salle High in Concord, Calif., which owns the nation's longest prep football winning streak at 151 games (1992 to 2003) and also produced Amani Toomer and Doug Brien. Until entering the NBA, Brent Barry shot free throws underhand, like his dad.
• 2. Eat Fresh. Among Matt Bonner's favorite foods are Pop Tarts and Subway sandwiches. He is also thrifty, and while with Toronto put off buying a car, preferring to get around town on foot, or by taking public transportation. Fans and teammates dubbed him The Red Rocket, after Toronto's streetcar system, which has the slogan: Ride the Rocket.
• 3. You've Been Kutchered. Michael Finley appeared on a notorious episode of Punk'd, in which Dirk Nowitzki is the subject of the practical joke. Finley and Nowitzki are eating dinner in a restaurant when a boy recognizes Nowitzki and asks him to autograph ridiculous amounts of merchandise.
• 4. Waterworld. Tim Duncan was a nationally-ranked swimmer at St. Dunstan's Episcopal High School in his native Virgin Islands, until the island's only Olympic-size pool was destroyed by Hurricane Hugo in 1989. He is also a fan of the role-playing game Dungeons and Dragons.
• 5. Frenchy!. Tony Parker's mother is former Dutch model Pamela Firestone, and he is currently dating actress Eva Longoria. But you might have heard that.
Bonus tidbit from reader Brian Blades: "The Spurs have a director of mascot development. He's Tim Derk, and from 1983 until February 2004, when he had a stroke that left him slightly paralyzed, he was the Spurs Coyote. He's also got a book called "Hi, Mom! Send Sheep!" about his life as the Coyote."
(UPDATE: OK, so they broke up. We're actually quite happy we didn't know that.)