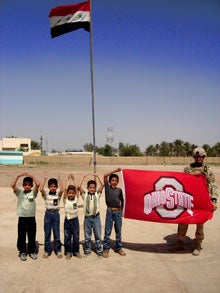 Over the last couple of weeks, several readers have suggested sending something to the platoon of the late Adam Knox, the man behind this famous picture from Iraq. Adam, brother of regular Deadspin reader Tom Knox, was killed last month when his patrol came under fire from enemy forces.
This is something we can get behind. We thought about just giving the address of the platoon, but we thought the cumbersome process of sending something out there — we tried to send a book to a cousin last year, and it was oppressively hard — might discourage people, so we, along with some concerned readers, came up with a plan.
We've set up a PayPal account under the address "adamknoxfund@aol.com" and are currently accepting any donations to the (admittedly slapdash) Adam Knox Fund. Essentially, we're going to solicit ideas on what we should buy with any donations we receive from you, and then we'll send a big package over there. We've talked to Tom, and the unit commanders were excited by the idea. He suggested "Magazines and other reading materials, snacks (combos, cookies, crackers, etc), DVD's, games, so on." We'll put it all together and send it over in one big package, from all of you.
So, if you want to contribute, the PayPal button is below. And please let us know if you think there might be anything specific they might like. But there are certain things they probably can't expect; we're looking at you, Mr. Smoot.