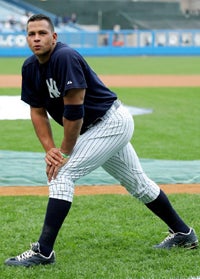 Seriously, we can't imagine a worse rainout scenario for fans than this one: Rather than a late-night Wednesday game, you have a Thursday game at 1 p.m. Imagine being at the game last night, at 9:30, thinking it might start, then learning they've cancelled it and you have about 13 hours to get home and sell your ticket ... or quit your job, we guess. Playoff baseball.
Anyway, it's not raining in New York City right now, so we're ready to go. It's the New York Yankees against the Detroit Tigers, Game 2. And look: A-Rod has been stretching all night and is ready to go!
Your starting pitchers are Justin Verlander for Detroit and Mike Mussina for New York.
And your live blog begins after the jump. Play along with us in the comments — we're still posting those at the end of each half-inning — and email us if you have anything you want to add. Enjoy.
(UPDATE: The live blog is actually working in real time now! So come on in! We swear!)
—————————————————————————————————-