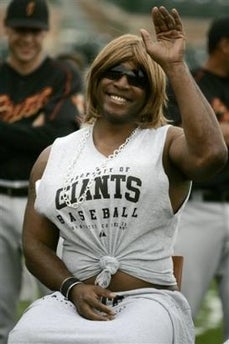 If you know us, you're familiar with our usual gripe: It's getting so that you can't stage a simple dragon-boat racing competition these days without someone breaking the rules by cross dressing. From Reuters:
The Ethnic Minority Games held in southwestern China descended into a farce of cross-dressing cheating and mob violence, state media reported. Results of the women's dragon-boat racing event were reviewed after athletes complained of "big women with Adam's apples." Referees subsequently found that several of the competitors were actually men wearing wigs.
Fortunately, order was restored when everyone was "eventually chased away by a local gang with blades and sticks."
Oh, and: ETHNIC MINORITY GAMES???? Christ, China, at least pretend to be subtle.
• Lovely To Look At, Delightful To Know. Christine Makin (formerly Clive Makin), who had a sex-change operation to become a woman, was tossed out of her women's darts league in England when opposing teams protested that Makin formerly owned a penis. Said Makin:
It's unfair. I play in the women's pool league and there's no problem.
This story brought to you by the British tabloid The Sun, the most trusted news source anywhere, which we're quite confident would never go to press with this accompanying photo of Ms. Makin if it weren't genuine.
Ethnic Games Tainted By Cross-Dressing Cheats [Yahoo! News]
Sex Change Woman's Darts Ban [The Sun]
Angling Star Had Rod Removed [The Sun}