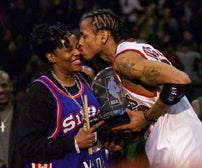 We don't want to sound like Gregg Doyel here, but we really couldn't resist bringing you this email that we received at 1:21 this morning.
Since it seems impossible to find an email address for Allen Iverson maybe you can pass this on to him or his Mother. His property here in Country Club Lake Estates is not being cared for properly. The grass is never mowed the trees and landscaping is dying due to lack of water and no seems to care. Please tell Allen or his Mother to send a responsible person to care for it.
Thanks You,
— [name redacted] (not actually Gregg Doyel)—
Imagine the confusion of doing a search for "Allen Iverson" "mom" and "mowing" and having our site show up. Along those lines, we're having some trouble ourselves tracking down "Country Club Lake Estates." We do feel bad about the landscaping, though; doesn't William Wesley have someone on the payroll to take care of the hedges?