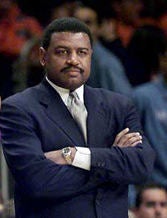 It is one thing when Tommy Lasorda has some poor minion pretending to write in his voice for his MLB "blog." That's, you know, not real. But something kind of crazy has happened over at independent Raptors blog RaptorBlog: They've "hired" former Raptors coach Butch Carter as a regular blogger for the site.
Starting today, RaptorBlog.com begins a partnership with former Raptors coach Butch Carter to provide exclusive content and commentary to you - the readers of RaptorBlog.com. He's been away from basketball for a few years, but from talking to him, I discovered that he's never truly left the game. He's got a lot to say about the Raptors organization and about the NBA in general, and I guarantee you're going to want to hear it.
This is a fascinating concept: We'd love to have Whitey Herzog around these parts, for example. (Or, say, Lou Henson. Sorry, Ron Turner: You're not invited.) Imagine if other former coaches popped in on team blogs. Bela Karolyi might have some fascinating tips for congressmen on finding underage talent. Former Blue Jays manager Tim Johnson could tell us stories of gunning down Charlie. And imagine the angry emoticons of Joe Mikulik!
If You Didn't Know, Now You Know [RaptorBlog]