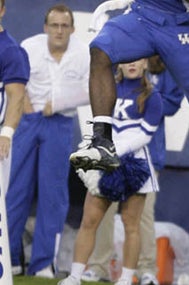 • GOOOO WILDCATS!!!
• Do not playl Madden with these people, ever.
• Official Drink Like A Champion garb.
• Aren't you glad we brought this video back into your lives?
• We just missed Pac Man Jones' shindig.
• Anything fun going on in Philadelphia this weekend?
• Your gambling days are just about over, Mister.
• Ron Zook, water skiing!
• Gilbert Arenas, we think you loco.
• We're very pleased to have Mr. Portis back with us.
• It is important to Mr. Lasorda that he be able to take everything you say at face value.
We encourage everyone to contribute to The Adam Knox Fund as well. We'll have some more info about that next week too.
Until then, enjoy a most joyful weekend of mirthful sporting goodness with The Mighty MJD. Wake us if the Yankees are eliminated, and we'll see you Monday.