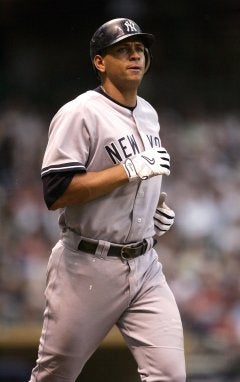 The Yankees/Tigers game is underway right now, and it's as if Joe Torre is already angling to make sure that any blame for their impending early exit from the playoffs is directed at Alex Rodriguez. A-Rod was moved to the 8-spot in the batting lineup today, between Robinson Cano and Melky Cabrera. Bobby Abreu moved into the 3-hole, with Sheffield and Matsui behind him.
If the Yankees end up losing today (and they're down 3-0 in the top of the third), Alex should probably just not get back on the plane for New York. Just stay in Detroit and hang out with Nicklas Lidstrom or something. A-Rod is hitting .091 in the series, and he wasn't all that popular to begin with. You might recall Tom Verducci's recent Sports Illustrated article, which quoted Jason Giambi as saying:
"Alex doesn't know who he is. We're going to find out who he is in the next couple of months."
He's apparently the guy who hits behind Robinson Cano.
I hate to get ahead of myself, and certainly the Yankees could very well come back to win this game and this series, but... we might want to start preparing for an off-season where the A-Rod trade rumors might even have an outside chance at outnumbering the A-Rod girly man insults.
New York Yankees @ Detroit Tigers [ESPN.com]