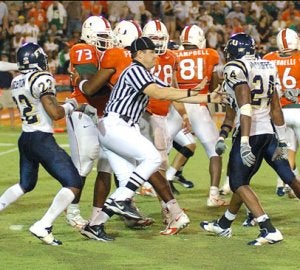 Miami (FL) 35, Florida International 0. There aren't many things that would be able to knock that excellent Auburn/Florida game out of the top spot here, but... a bench-clearing brawl in which thirteen players are ejected is one of them. Eight FIU Golden Panthers and five Miami Hurricanes were sent to the locker room after a huge, helmet-swinging melee. All the Miami guys claim that they didn't start the fight, and I see no reason not to believe them (well, other than the fact that they play for Miami), but the guy I saw on the field swinging his helmet at people was definitely a 'Cane. Good to see someone keeping tradition alive.
Auburn 27, Florida 17. I don't want to say it was the difference in the game - I'd say that Auburn's general defensive nastiness in the second half was the difference in the game - but that 4th quarter Chris Leak fumble ruling was pretty large. Auburn gave up just 85 yards after halftime, and a total of 110 yards to Gator quarterbacks Chris Leak and Tim Tebow. The win, and this is a damn impressive stat, was Auburn's 8th in 9 tries against Top 10 opponents.
(3) USC, Arizona State 21. Arizona State came back to tie it after trailing 21-0, but it turned out to be a huge tease. It's always such a letdown when that happens... an underdog will battle back and get close to knocking off a ranked team, and then the ranked team with bitchslap them back into place. This happens three or four times every Saturday, and I continue to fall for it every damn time.
(5) West Virginia 41, Syracuse 17. Stat line of the day: Pat White: 14 carries, 235 yards rushing, 3 touchdowns. Pat White, by the way, is a quarterback. Steve Slaton ran for 178 yards for WVU, and no one even noticed. Total rushing yards for West Virginia: 461.
Vanderbilt 24, (16) Georgia 22. A last-second field goal from Bryant Hahnfeldt ensured Georgia's most embarrassing loss since a 1994 loss to, you guessed it, Vanderbilt. Maybe once every 12 years or so, Vanderbilt just has Georgia's number. Or maybe it's only really embarrassing when you lose to Vanderbilt. And even worse, Georgia's starting running back is lost for the year, too.