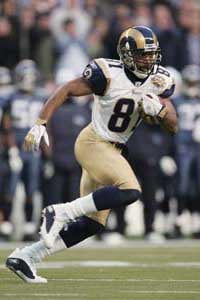 • St. Louis 21, Seattle 7. In St. Louis, it's been all about Torry Holt, and Marc Bulger, perhaps the least-physically-threatening non-kicker in the National Football League. Holt already has six catches for 83 yards and two touchdowns, and Bulger has over 200 yards, and 2 TDs.
• Houston, 6, Dallas 3. David Carr's taken a vicious shot in the head and as far as I can tell, is still in the game... and probably feeling very confused, and not just about the fact that the Texans are leading. Terrell Owens, if you're curious, has been silent thus far, both in performance and demeanor. He's got one catch for 14 yards, but hasn't bitched at anyone on the sidelines. It's stewing, though. You can see it.
• New Orleans 17, Philadelphia 3. The Saints have taken the Eagles out to the woodshed thus far, leading 17-3 at the half. Deuce McAllister, despite missing most of the first half, has 48 yards rushing, and Reggie Bush has caught four balls for 35 yards. But their defense has been more of a story, pressuring McNabb, swarming to the ball, and wreaking general havoc.