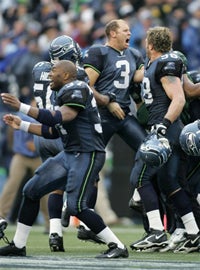 • New Orleans 27, Philadelphia 24. The Eagles came out in the second half and just bumrushed the Eagles, but the Saints got a John Carney field goal with :03 on the clock for the win. Say what you want about the Eagles, but... without them, this season would've been a lot less interesting.
• Seattle 30, St. Louis 28. A last-second 54 yarder from Josh Brown saved the day for the Seahawks. A few seconds earlier, the Rams thought they had it won when a penalty on the Seahawks, Linehand believed, would cause a :10 second run-off on the clock. For whatever the reason, that didn't happen. Torry Holt juggled in a 67-yard TD pass with a couple of minutes to play, but left a little too much time on the clock. Big win for Seattle, and an outstanding game.
• Carolina 32, Baltimore 21. It's sort of a shame that Kyle Boller's 226-yard, 3 touchdown performance by Steve Smith's 8 catches for 189 yards and a TD. Jake Delhomme threw for 365 yards, too. I really feel bad about this... Kyle Boller doesn't get the opportunity to play very often, and even when he does, what are the odds that he's going to play well? Shame.
• Cowboys 34, Texans 6. No matter what game you're watching, I'm pretty sure you've gotten several in-game updates on the progess of Terrell Owens. He's scored 3 touchdowns today on just 5 catches for 45 yards. Perhaps it's the conspriacy theorist in me, but this feels sort of like the Cowboys are just looking appease the man and keep him quiet by going to him in the red zone. As long as he's scoring touchdowns, he doesn't have a reason to bitch.