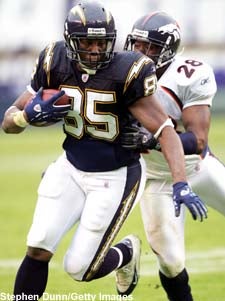 • NY Jets 20, Miami 10. There's really nothing left to be decided today, though I suppose Miami could pull off a comeback. But if they do, I probably couldn't even pretend to care. Chris Chambers just caught a touchdown pass to cut the lead to 10 in the fourth quarter, but I think it's asking a little much of Joey Harrington to manufacture 10 points in any reasonable amount of time.
• Pittsburgh 38, Kansas City 7. Brodie Croyle was just sacked by Chad Brown... that's about all you need to know from this one. Ben Roethlisberger finished the day with a perfect passer rating, which is fantastic, because I know so many of you love him. There was a little bit of excitement earlier, when Larry Johnson tackled Troy Polamalu by the hair after a Polamalu interception. It probably hurt like a bastard, but at least he proved once and for all that it's not a weave. It stayed strong. There's under four minutes left, and Kansas City's calling timeouts, prolonging not only their misery, but everyone else's.
• San Diego 41, San Francisco 19. And this one's done, too. It's 41-19, and the Chargers are driving again. For some reason, both Phil Rivers and LaDainian Tomlinson are still in the game. In fact, the Chargers are still going deep. To be honest with you, I haven't been paying attention for a while. I don't think Mike Nolan's been paying attention, either.