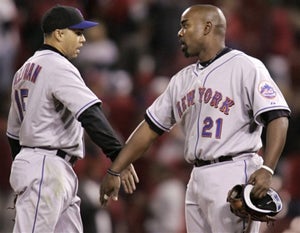 As usual when we watch a playoff baseball game involving our beloved Cardinals, we spent the first four innings of last night's Mets-Cardinals NLCS Game 4 pacing around the room, muttering to ourselves, randomly spitting out expletives and all together looking like anything but someone engaging in a leisure activity. And the game was tied.
Then, two innings, 18 batters and nine runs later, we were beaten into submission, slumped down into the couch, silenced. It's amazing how watching a sporting event can physically affect the viewer. It's difficult to overstate the level of nightsweats Carlos Beltran gives Cardinals fans in the month of October. The Mets woke up, in the extremely violent way in which they are prone.
And now here we are, tied 2-2, with Tom Glavine and Jeff Weaver going tonight on short rest ... if the game doesn't get rained out, that is, which is extremely possible. We decided last weekend that if the Cardinals happened to pull off the major upset and sneak into the World Series, we would come home to Mattoon for the week and be in St. Louis for the home games. We couldn't imagine spending another Cardinals WS in New York.
Needless to say, we haven't bought our ticket yet.
October Baseball: I Live Through This! [Faith And Fear In Flushing]
(By the way, because it happened over the weekend, we haven't been able to say this ourselves, but jeez: Congratulations to the Tigers. Holy cow. See, we're no jinx! We'll talk about this some more a bit later.)
(Oh, and also, there's no truth to the rumor that Brad Thompson is one of the children helped by Albert Pujols' charitable foundation ... but we understand why you might ask.)