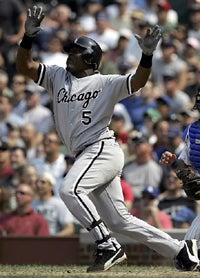 Taking a page from the Ugueth Urbina playbook, it appears White Sox shortstop Jose Uribe and his brother Elipido got themselves in a little bit of trouble this weekend. The kind of trouble that features people shooting each other.
The incident took place on Friday night according to the El Nacional newspaper and the two victims were treated at a hospital and then released. Uribe and his brother, Elipidio, thought that the victims walked too close to their jeep, according to a police report.

Dondolin Alessandro, a captain in the Italian Navy, suffered wounds to his stomach and hands. Antonio Gonzalez Perez, a farmer who tried to intervene, suffered a left-elbow injury but was treated and released.
Details are still filing in — Baseball Musings had the original Spanish language report, but we are empathetic to Mr. Uribe's plight: We've gunned down people for so much as looking at our jeep before.
Report: White Sox's Uribe Part Of Probe [Forbes]
Juan Uribe Shooting [Baseball Musings]
Do Not Steal From Ugueth Urbina. Seriously. [Deadspin]