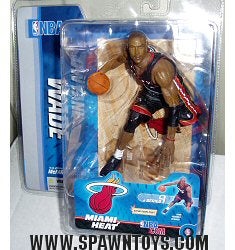 It's hard to believe, but the NBA season is just around the corner. So come with us now as we present five tiny tidbits on each team, just to get you in the mood. Today we continue with the Southeast Division, so do us a favor and send your tips to tips@deadspin.com.
• 1. For The Seafood Lover In You. Udonis Haslem's favorite movies are Bad Boys and Scarface, his favorite rap artists are Jay-Z and the Hot Boys, his favorite restaurant is Red Lobster and he is a huge University of Miami football fan.
• 2. She's A Maniac, Maniac On The Floor. Forget the 2005-06 NBA Championship. Also last season, the Heat Dancers won top dance team in the NBA as voted by the fans. Also, Heat Dancer Layla El won the WWE Diva Search.
• 3. Whiplash Lawsuit On The Horizon. Comedian Mickey Joseph has a routine in which he imagines what an NBA game would be like if all the players were naked. A good portion of the bit involves Joseph — who is about 5-foot-8 — protecting himself with his arms against Shaquille O'Neal's imaginary penis.
• 4. They Were Tough In The Paint. Jason Chandler Williams played basketball at Dupont High School in West Virginia, where one of his teammates was Randy Moss. His nickname is Fanny Lightning.
• 5. Action! Shaquille O'Neal has appeared in eight movies. Can you name them? Ah, you missed one — Good Burger. Everyone misses that.