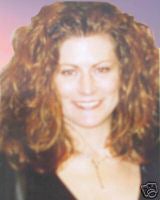 It's World Series week in Detroit, and you know what that means: Fans doing anything they can in a mad, desperate dash for tickets. (If the Cardinals somehow sneak in, you know we're whoring ourselves out. Though we're still not going anywhere near a press box.) Our first entry is an eBay auction of curious strategy from an enterprising Detroit woman.
I have a Tiger Towel and I'm ready to cheer on the Good Ole Boys. I live in Trenton Michigan and I hope to find someone or a group to go with. Anyone with access to tickets that would like me as a companion please write me now. I'm pretty funny and can keep up with the crowd. Let's Go Tigers!!!! I'm available as a designated driver under the proper circumstance as well. If you want a lady on your arm who will appreciate your generosity, I'm your girl! ... I am a single woman who is self employed and highly respectable but in no way uptight. ... I want to party at the best event in my town and I want in the game so I'm up for bid. I'm 5'4 and a size 5, I look great in all kinds of Tiger apparel
It's unusual to see an ad like this on eBay rather than Craig's List, which is what gives it much of its charm. Though we still find the notion of trying to get someone to pay you to give you tickets ... well, when the World Series is in Detroit, one must leave no stone unturned.
Detroit Tigers World Series Game Ticket Companion Date [eBay]