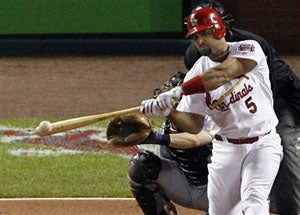 Canvassing the blogs after St. Louis' 4-2 win over New York in Game 5 of the NLCS ...
• Faith And Fear In Flushing. Fear Strikes Out. Great news! We've already done what we need to do tonight and tomorrow night 61 times in 2006. We've won two games in a row 61 times. It's about to be 62. October 18 and 19.
• Viva El Birdos. They're a win away . . . la russa continues to amaze me. bottom 8th, jose valentin at the plate with the tying runs on base. flores was already in the game, and seemingly the right guy to pitch to valentin, who has always been helpless vs left-handed pitchers. this season he's got a .644 OPS vs lhp, but an .879 OPS vs rhp; over the last 3 years combined he's got a .676 OPS vs lefties, but an .817 OPS vs righties. and with the left-handed chavez on deck and another lefty, cliff floyd, waiting to pinch-hit for the pitcher, you'd seemingly want a left-hander all the way down the line. so what does la russa do? he removes the left-handed flores and brings in a right-hander, wainwright —- seemingly playing into valentin's hands. why in god's name? . . . . the curveball, apparently. the scouting reports must have said that valentin can't handle a hook, because that's what wainwright fed him — a 1st-pitch fastball for strike 1, then 4 curves in 5 pitches. valentin swung through one, took another for strike 3.
• Mike's Mets. Home plate umpire Jeff Kellogg had a terribly inconsistent strike zone all night, but he had a better game than most of the Mets hitters, so resist the urge to blame him, please. In a very important game, the Mets reverted to their September offensive approach, with predictable results.
• The Gas House Gang. Alright, Jeff Weaver came through for us big time last night. There's no travel day because of the rain out. Tonight will be our best chance to win this thing because we'll have Chris Carpenter going up against John Maine. Our ace is on the mound so it's imperative we get this done.
• The 26th Man. Aloha, Mr. Hand ... Wow. We really are just one win away from the World Series, thanks to yet another stellar outing from Jeff Weaver. He didn't dominate, but he got the outs when he needed them. I can't seem to stop gushing about that guy. This whole up-3-games-to-2-in-the-NLCS thing is weird and scary to me. I still can't believe So Taguchi hit a home run the other day. I'm at a loss for words. Interesting ones, anyway.