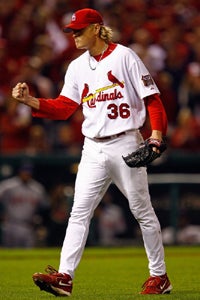 The first game we ever saw at the new Busch Stadium was also the first game Jeff Weaver pitched as a Cardinal ... and it was rather unpleasant for the both of us. (Our experience would, in fact, get worse.) We couldn't imagine Weaver lasting longer than a couple of weeks; the best compliments we could give him was that he looked like a bunch of people we went to high school with and that he was not Sidney Ponson.
And now look at him. He's 2-1 in the postseason and has become as reliable a starter as there has been. And he just pitched the Cardinals to within one game of the World Series. Many heroes emerged from the game last night, from Pujols to Preston Wilson to Josh Kinney to Adam Wainwright to the Skoal-goateed Chris Duncan, but Weaver — who's a free agent, by the way — was the most important. He has gone from a guy who was so bad a team canned him for his little brother to a big-time postseason pitcher.
And because of him, the Cardinals can win the pennant tonight. We can't believe we just typed that.
NLCS Game 5 Postgame [Viva El Birdos]