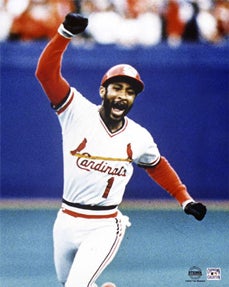 Well, here we are. After a maddening season that involved Sidney Ponson and Larry Bigbie, crazed monsoons, three games against the White Sox that made our souls die and, of course, that final two weeks, our beloved St. Louis Cardinals are one game away from a most improbable World Series.
We remain less than convinced that it's going to happen, and we've been spinning double-blind reverse jinxes all day. ("No way they're going to win. Nothing is over. The Mets have two home games and Carpenter has struggled of late. We think Tony La Russa is going to bat the pitcher sixth or something.") But we're here anyway, one game away. Some Mets fans think they're doomed, but we are not falling into that trap.
So, Game 6 tonight, back at Shea, Chris Carpenter vs. John Maine ... and yes, thanks to a rather enterprising book editor, we will be there, in the mezzanine, wearing a Cardinals hat and ducking projectiles. Yes, we know, the Cardinals are 0-5 this season when we've been in attendance. So we apologize in advance, fellow fans. We couldn't resist.
When we get home, we'll update appropriately. We hope to be gleefully covered in champagne; we fear we will be caked in welts.
Discuss the game in the comments if you'd like. Whether we'll have the intestinal fortitude to read them or not, well, we'll find out. Enjoy.