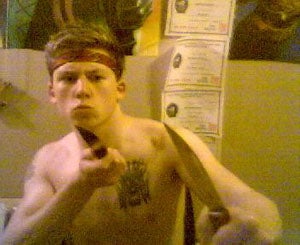 Apparently, unlike some people, the Associated Press has no problem with what "underground" Web sites report. According to AP — in a Wednesday post on ESPN — an Internet site claimed that seven NFL stadiums will be hit with dirty bombs this weekend.
Dated Oct. 12, the posting was part of an ongoing conversation titled "New Attack on America Be Afraid." It appeared on a Web site called "The Friend Society," which links to various online forums and off-color cartoons.
When we tried to log on to The Friend Society, it was gone; the owners are probably forming naked pyramids at Guantanamo Bay as we speak (the photo above is purportedly from the site).
Our favorite part of the story is this: After reports on steps that six of the seven affected NFL teams are taking in regard the terror threat, this paragraph appears: "Raiders senior administrator Artie Gigantino said there would be no noticeable increase in security this weekend at the Oakland Coliseum."

Coming To You Live From The "Underground" [Deadspin]
Homeland Security Skeptical About NFL Stadiums Threat [ESPN]