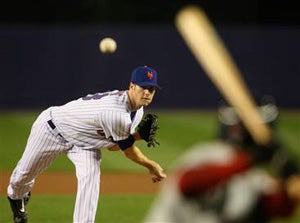 Scanning the blogs following the Mets' 4-2 win over the Cardinals in Game 6 of the National League Championship Series ...
• Viva El Birdos. a few people in the game thread somehow got the idea that the pitchout called in the 7th inning cost the cardinals the game; interesting theory. when a manager calls a pitchout, and the runner is going, and he's out by 5 steps, that's generally a good call by the manager. and it's what should have happened —- except molina threw the ball into centerfield. nothing at all wrong with the call —- perfect anticipation by la russa. the fault lay with the execution . . . . But hey, if it makes you feel better to believe that the pitchout caused reyes' infield hit and the subsequent two-run single by lo duca, by all means be my guest . . . . all in all, a discouraging game.
• Get Up, Baby. Well, I guess it was too much to ask that they spare a game seven so I can watch the Office without interruption. Games like these are why I don't post as often in the playoffs as I do during the regular season. If ever there was a time when I wanted Jeff "The Most Boring Pitcher Ever" Suppan on the hill, leaving a path of death, destruction and tidy consistency in his slow, even wake, it's now.
• Amazin' Avenue. The only blemish on the pitching record was another disconcerting effort by Billy Wagner, who allowed two runs on three hits while pitching on five days rest. Wagner was beat again by So Taguchi, who (again) survived an egregious non-third-strike call by the home plate umpire to dump a two-run double down the left field line. Wagner's slider was pretty sloppy, which isn't particularly uncommon for a pitcher who hasn't thrown in a number of days. Still, Wagner hasn't been able to put away these Cardinal hitters, and he hasn't struck out a single batter in 2.2 innings this series.
• CardNilly. This post was originally going to be all vitriol and vituperation. Seething anger at men left on base and defensive miscues and balls thrown into center field. Oh, and I was in a fine spirit for it, too, having already hurled some papers I was editing across the girlfriend's living room in disgust at one of the above transgressions. But after a little alone time, I found myself in a different state of mind. At the end of this year, at the end of this season, I just want one thing. If we go down, I want to go down swinging.