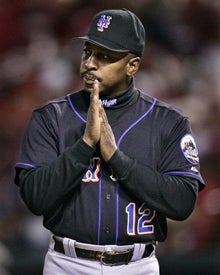 We thought our brains had processed every possible scenario for Game 7 tonight, up to and including Preston Wilson being attacked by a mule. But New York Magazine's Sam Anderson — an excellent writer, by the way — has come up with one that we hadn't considered, in Choose Your Own Adventure form.
You are Mets manager Willie Randolph. Congrats! Despite a tragic string of injuries, your team has successfully scrapped its way to Game 7 in the NLCS. Unfortunately, now you have no one left with functioning arms to throw the ball. What pitching decisions will you make to try to reach the golden paradise of the World Series? To start journeyman pitcher Oliver Perez, turn to page 9. To concede the game, turn to page 12.

Page 9. Clearly, you are a risk-taker with a great sense of humor! Perez starts the first inning strong, walking two batters, then hits Albert Pujols in the buttocks. Bases loaded. To keep Perez in the game in hopes that he'll settle down, turn to page 30. To replace him with long-reliever Darren Oliver, turn to page 6.
After that, Oliver Perez walks the next six batters, and later Steve Trachsel hits four consecutive.
And still ... the Mets win.
Choose Your Own Adventure Game 7 [New York Magazine]