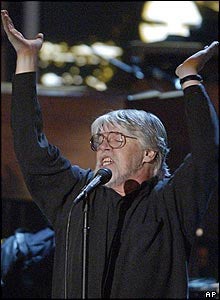 Before Game 1 of the 2004 World Series, we were talking to our father, little pregame discussion of how these Red Sox were going down, man, when he stopped. "Holy shit," he said. "The guy from Aerosmith is singing the national anthem. Damn, that makes me feel old." Our father, who missed the Diane Warren/Armageddon phase of Steven Tyler's career, couldn't believe the burnout band from his youth now was performing at the World Series. We just couldn't believe what had happened to Steven Tyler's face.
Well, the national anthem singers for Games 1 and 2 of the World Series in Detroit have been chosen, and they're probably more to our father's speed. The Game 1 singer is none other than Bob Seger, sans Silver Bullet Band, and Anita Baker is warbling before Game 2. We're not sure yet who's singing for the Cardinals; we're rooting for Nelly, or even Chuck Berry, but we suspect we'll end up with some lame country music singer we don't know.
Don't suppose, if the series slips to a Game 6 or 7, that Jack White could be persuaded to croon a bit, could he? Dreaming, we know ...
Detroit Stars Seger, Baker Chosen For Series Festivities [Detroit Free Press]