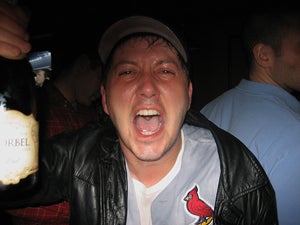 What a week.
• Comin' to you straight from tha underground, boyz! (Ahem.)
• Introducing The Nutty Buddy.
• Jay Mariotti is coming after your Web site next.
• We think they might be ready in Detroit.
• Lamar Thomas has team spirit in video form and in lyrical prose.
• "I will not hesitate. I will take you down."
• Steve Lyons was fired, and he was nonsensical, but he was not fired for being nonsensical.
• You know what? We have forgotten about this game.
• deadspincommentersrule.myespn.com.
• Eric Byrnes hates your ass.
Oh, and: YAHHHHH! And: WOOOOOO!
Holy moly. Last night, we spent Game 7 with 25 strangers — people we had never seen before in our lives — who shared only bright red shirts and little Scott Spiezio paper goatees. (It's true. They made them.) It was the Cardinals bar in the Flatiron District of Manhattan, and for a night, we were family ... they were our best friends. (It totally felt like camp.) The above picture, which we add here with extreme hesitation, and only because those Gawker people got a hold of it (those darned Web sites and their drunken photos!), was taken about three minutes after Adam Wainwright's last pitch, right after everyone started spraying champagne on each other. We are still operating on, like, 30 minutes sleep, and it feels beautiful. We won't ramble on like this much longer ... but we just had to say it so we remember it happened.
So: Tomorrow afternoon, we are flying to lovely Mattoon, Illinois, where we will watch Game 1 of the World Series where we belong: At home. And then ... we're off to St. Louis for Games 3 to (hopefully) 5. We're actually even attending one, Game 4, which proves that we never, ever learn. We're coming to you live from the Midwest for World Series Week ... and we cannot wait.
We'll see you Monday, if we live that long.