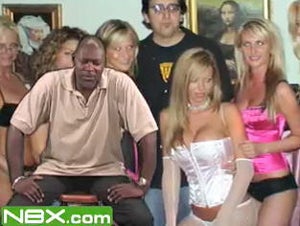 During this World Series travel day, we take a breather and head to Series Past, specifically the A's teams involving Dave Stewart, who has always been one of our favorite pitchers. He's badass, he has a sense of humor and he was so much better than people remember him, for some reason.
Oh, and he had some good times back in the day, apparently. The good folks at NBX.com have hired Stewart to do some postseason commentary and, as a bonus side, begun a series called "After Hours With Dave Stewart," in which he discusses some of the off-the-field fun his old A's teams had.
And the first entry is a doozy, with Dave discussing a "sand party" with Carney Lansford and other teammates. In case you had any doubt left in your mind what the life of a baseball player is like during the season, this should pretty much clear it up for you.
It's called "The Anaconda Story." Enjoy.
After Hours With Dave Stewart [NBX.com]