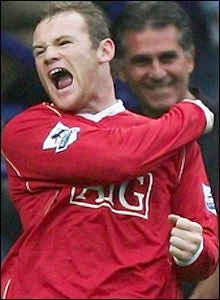 The Mirror of London hits us today with 21 Things You Didn't Know About Roo; Roo of course being soccer star Wayne Rooney. Among the things you'd expect — likes to visit prostitutes, etc. — there are other things that would seem to indicate a softer side of Rooney; a sweet, nurturing side. Not that there's anything wrong with that.
Five tiny tidbits on Wayne Rooney:
• Loves musicals, particularly Grease, and enjoys singing songs from Oliver!
• Loves soap operas, avidly follows Coronation Street and EastEnders.
• Named his dogs Fizz and Bella after characters in children's show Tweenies.
• As a teenager, had poster of soccer star Duncan Ferguson on his wall at school.
• Says his favorite novels are the Harry Potter series.
21 Things About Roo [The Mirror]