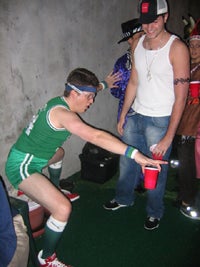 As Halloween approaches, and you think about your costumes and their potential offensiveness or lack thereof — tips: Buck O'Neill, OK; Cory Lidle, not so much — we'd like to direct you to this fellow, who two years ago dressed up as a hardcore Celtics defensive enthusiast, a persona now commandeered by those Billy Joe Cuthbert Mongoose-vs.-Mamba commercials.
We find this more amusing than we'd like to admit, if just because we can totally see us, in a Batman costume or something, spontaneously trying to drive around this guy. We might even throw a Barkley elbow; our BatBelt would probably have some useful gadgets too.
This of course got us to thinking about Halloween this year, and how we don't have a costume. We can't go as Rick Ankiel again, and everytime we go as Fred Smoot, matters take a dangerous turn for the worse. We are open for, as they say, suggestions.
Coincidence? I Think Not [Mr. Shafrir]