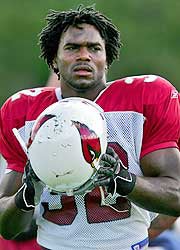 Not that you couldn't see this coming, but we'll confess, it's somewhat sooner than we necessarily expected.
Looks like Buzzsaw running back Edgerrin James, who has yet to hit the 100-yard mark, is realizing just what kind of mess he has gotten himself into in Arizona.
"I got a lot of warnings," James said when asked about coming to Arizona. "I'm just out there, trying to run, looking for somewhere to run and put it where I'm told to put it at."
In the words of G.O.B.: "I've made a terrible mistake."
James Still Talking, Now Questioning His Move To Arizona [The Fanhouse]