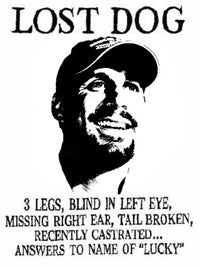 We don't mean to imply that Pittsburgh Steelers quarterback Ben Roethlisberger is suffering from an alarmingly high number of ailments right now, but we think we saw this sign on a telephone pole outside our current Mattoon dwelling earlier today.
It turns out that Roethlisberger's head injury on Sunday was not terribly severe, as much as any head injury isn't "terribly severe," and he should be good to go against the Raiders on Sunday. His agent said that he talked to Roethlisberger on Sunday and he "was coherent and aware of everything that had occurred." And hey, that's a great sign! That's more than we can say about some of our weekends.
Honesty, by the end of the season, Roethlisberger is gonna be taped up and carted around the Steelers backfield, "Weekend At Bernie's" style. It beats Charlie Batch, anyway.
Roethlisberger Set To Play Sunday [Rotowire]