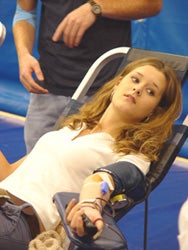 It's important for a high school football coach to have his priorities in order. That order?
• 1. Football
• 2. Football
• 3. Football
• 4. Helping others in the community.
• (4. No, just kidding, it's football.)
In Texas — of course — Willis High School coach Mack Malone saw six of his players donating at a blood drive before practice ... and his measured, well-thought-out response was to kick them off the team.
"The first thing (the coach) said was, 'You're off the team. Your career at Willis High School is over,'" football player Phillip McKenna said.
The players said they went to their lockers to get ready for practice, but they were told to leave.
"We were all ready for practice," player Jeff Chachem said. "We were going out to practice and all of our stuff was taken out of our lockers and we were told to go home, that we were done playing football."
Malone, after the surprising public outrage at a coach kicking players off his team for giving blood, has reinstated the players and (privately) apologized to the players' parents ... but the players have still lost their starting spots for Friday's game. Why? For missing practice Monday, of course.
School Reinstates Blood-Giving Football Players [Click2Houston]