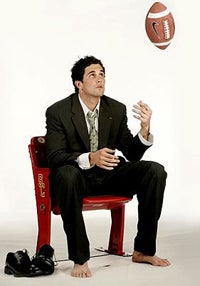 We'd like to formally welcome Cole Leinart, son of Buzzsaw quarterback Matt Leinart and former USC basketball player Brynn Cameron, to this rotating orb we call earth. Cole Cameron Leinart was born Tuesday night in California, and Leinart was there, which was nice, because he's not gonna be around for a while afterwards. (We're not casting aspersions on Leinart; we're sure he'll be a fine dad, now that he has a fulltime NFL career away from California, isn't married to the mother and, oh yeah, happens to be one of the most eligible bachelors on earth.)
Leinart is expected to be back at practice today, where his Buzzsaw will face the Packers on Sunday. We can't wait for the practice conversations tomorrow.
Kurt Warner: Welcome back, Matt. Congratulations on your bundle of blessings! Children are just the most sacred, delicate gift.
Matt Leinart: Stuff it, old man.
Interestingly enough, within three seconds of Cole Leinart's birth, he was sacked.
Leinart Misses Practice For Birth Of Child [East Valley Tribune]
Cameron Family Just Pleased As Punch With Matt Leinart Right Now [Deadspin]