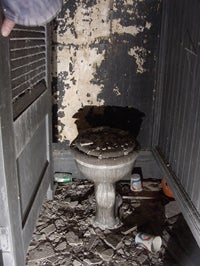 Well, it's not exactly the greatest all-time bathroom stall story, but hey, it's Seattle, not Tampa: We'll take what we can get.
A deputy prosecutor in Seattle was ejected from Qwest Field on Sunday after he was accused of having sex in a bathroom. The story has all kinds of useful info.
"We didn't see them having sex but they were clearly in the same stall," Urquhart said of the couple, who told deputies they work together in the Thurston County Prosecuting Attorney's Office.

The man, a 39-year-old attorney, "had been drinking and was argumentative" with deputies, he said. Arrested for obstructing and trespassing, the man was interviewed and released, Urquhart said, explaining that it is "against the law for him to be in a women's restroom."
Wait ... it's illegal for a man to be in a woman's restroom? We knew it was socially unacceptable, but illegal? Man, the more you freaking know.
Prosecutor Arrested After Allegedly Having Sex In Qwest Field Bathroom [Seattle Times]