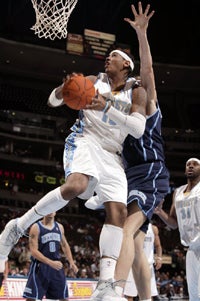 As established, we're dangerously close to the start of the NBA season, with all its drama storylines and sturm und drang and months of madness. To us, part of the beauty of the NBA is that its focus, while ultimately on the team, falls on the individual. The plight of one player becomes an epic tale in the shadow of Jordan; who is the real alpha dog? It's this source of expression and personal comedy/tragedy that makes the game so compelling. There's nowhere to hide out there.
No site captures this feel more than the great Free Darko, which we read like a doctor's chart every day during the NBA season. They understand the dichotomy between individual achievement and collective glory, and how those are not mutually exclusive. And they've got a way with letters too.
Therefore, we've asked them to look at the arcs of certain players going into this season, what 2006-07 means to them, their teams and their legacies. They'll be previewing a player a day, up to tipoff next Tuesday.
Today: Carmelo Anthony. Your author is Brown Recluse, Esq. His words are after the jump.
——————————————————————-
The '05-06 season was a breakthrough of sorts for Carmelo Anthony, who upped his scoring average nearly six points (to 26.5 per) and led the Nuggets to the top of the Western Conference Northwest Division. Yet, whatever advances 'Melo made during the regular season were soon forgotten after his scoring dropped back down to 21 ppg in the playoffs, as Denver went down 4-1 to the historically woeful Clippers in the first round. The haters in the media began voicing the same doubts about whether he was a truly elite player, whether he belonged in the same class as his homies Bron Bron and D-Wade, both fresh off virtuosic playoff performances, with Wade's garnering him both the Larry O'Brien and Finals MVP trophies.
Enter the Land of the Rising Sun: the birthplace of sushi, Hello Kitty, my grandfather, and Phase 2 of Melo's career. It may be a bit hyperbolic to state that, at only age 22, the man's career was already in need of resuscitation, but with all the hype surrounding 'Melo, it's easy to forget that he has yet to make an All-Star Game or lead his team out of the first round of the playoffs. Going into the FIBA World Championships, Anthony's stock was lower than anyone else on the squad, relative to expectations. Would anyone trade Carmelo Anthony for Shane Battier? Of course not, but no one's ever expected Sugar Shane to carry an NBA team either. Although Team USA fell short of the gold medal, Anthony emerged as the team leader, being selected a tri-captain, then leading the Americans in scoring and making first team all-tourney.
While he has often suffered in comparison to his 2003 Draft classmates, 'Melo has always been the People's Champ, rocking cornrows, getting in bar fights and appearing in hood documentaries while the clean-cut James and Wade carefully cultivate their off-court personae. His minor scrapes with the law (and, really, they've been very minor, barely requiring a Band-Aid, no Neosporin needed) have only served to make him appear more human and more relatable to the jersey-buying set. Fresh off his summer success, Anthony looks ready to become a genuine NBA folk hero, with his newly mature game paired with that million dollar smile. It's a prospect that must have opposing coaches drawing up new defensive schemes and his agent test driving Maybachs.
But, let's be real. Even if he's a new 'Melo, they're basically the same Nuggets. He's still got to do battle with the giants of the Western Conference playing with an oft-injured frontcourt, no proven shooting guard and for a notoriously moody coach. Winning with this crew should prove a substantially bigger challenge than playing with a group of All-Stars, as he did in Japan. I realize it's pretty absurd to criticize a 22-year-old (did I already mention he's only 22?) for failing to lead his team to postseason riches when he won a NCAA championship as a college freshman and then carried Team USA to what would have been a gold medal, had it not been for a Herculean long distance shooting display from the Greeks. Still, the fact remains that 'Melo has yet to take over in big games on a consistent basis. Until he does, he'll always be in the shadows of Lebron James and Dwyane Wade. Maybe just slightly obscured, but in the shadows all the same.
The harsh reality of today's NBA is that Anthony might have failed by succeeding. If he can't follow up his impressive performance in Japan with at least a spot on his first All-Star team and an appearance in the second round of the playoffs, the same old doubts will come creeping up. It'll be like going from being the Bird to Lebron's Magic (or was it the other way around?) back to those hated Glenn Robinson comparisons all over again. The flipside is that if Anthony does finally fulfill his potential and emerge as a mature, dominant player, will he lose his populist appeal in the process? You can't please all the people all the time. Buena suerte, 'Melo, buena suerte.