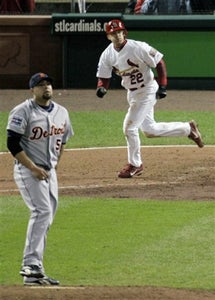 It seems silly to say this now, but had the Cardinals not come back and won last night's Game 4 against Detroit, it's difficult to imagine them winning this series. Not only would it send the home field back to Detroit, and not only would it put St. Louis in an extremely tough pitching position, but, well ... the Cardinals would have lost a game in which they caught every break possible, and then a couple extra impossible ones.
• Juan Encarnacion, instead of bunting, strikes out but a wild pitch on his mad flair moves the runner up anyway.
• Curtis Granderson's slip-and-fall in center field. If you had told us an outfielder would fall chasing a foul ball, we would have of course assumed it would be Edmonds.
• Fernando Rodney — who's an absolutely filthy pitcher, by the way — overthrows first base to send home the definition of a junk run.
• Craig Monroe makes one slightly wrong half step ... and David Eckstein's ball goes over his head.
Any one of these tiny moments goes against the Cardinals, or at least not so dramatically against the Tigers, and we're likely tied 2-2 right now. It was a night where the Tigers seemed cursed; as mentioned, we can't imagine how difficult that must have been to watch. The Cardinals did not deserve to win — Albert Pujols, in particularly, had a dreadful game and, it must be told, a mighty quiet series — but they did, because baseball makes no sense 60 percent of the time.
So, to Game 5 tonight. It's ... you know, we're not ready to talk about Game 5 yet.
Cardinals 5, Tigers 4 [St. Louis Post-Dispatch]