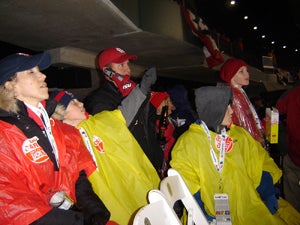 As we might have mentioned, we originally had Game 4 tickets, and we sat out in the rain for two hours, freezing, waiting for MLB to put us out of our misery and cancel the game. We had been considering this a dreadful, cursed occurrence, until last night made our Game 4 tickets potential clinchers. We view the matter differently now.
Nevertheless, since one of the best parts of this job is that we are technically "on duty" while still being a fan and drinking Bud Lights, we frittered around the soggy stadium on Wednesday, before, during and after the game, talking to people, taking pictures and mostly trying to stay warm. (And failing.)
Our tales of a windy, freezing night at Busch are after the jump.
————————————————————-
As tends to be the case, we showed up far too early, blazing a trail through southwestern Illinois in our Chevy Cobalt, the road cannon of destruction. It was only drizzling when we first arrived, around 3 p.m. local time, and there was general optimism that the game might start, if just because it was supposed to be worse Thursday and Friday. Nobody was by the ballpark this early but us, some stoned-looking cameramen and bomb-sniffing dogs, who ended up just hanging outside Berman's trailer, focused on the sausage.
Speaking of Berman, did you know he lives here in the offseason? True story.
While sneaking a cigarette — extremely difficult to do while wearing lineman's gloves, by the way; we might have mentioned that it was cold — we ran into these two toolboxes, belonging to the most frightening race on the planet: Teenagers. One of them asked us for a cigarette — "For Game 5, man!" — and we obliged, as the red guy on the left snorted at our Marlboro Reds. We asked how much money they'd raised so far. "Couple bucks, man," baseball face kid said. "But it's early. We're a tenth of the way there!" Yes. You are.
You can't tell this, because we're a shitty photographer, but that's Peter Gammons, pretty much the only sports reporter who makes us weak-kneed. We had considered yelling something out to him, like "Tom Petty is totally underrated!" or "Harold Reynolds was framed!" but we didn't want to startle him; he's had a rough few months.
Interestingly enough, this guy is actually a Cardinals fan. He's just an unfortunate victim of a poorly timed genetic malady. You have no idea how much this guy was rooting for the A's.
Believe or not, the game was sold out, proving that we weren't, in fact, in Atlanta. (Sorry!)
It was late Sunday night. Bob knew he had to do something; this injustice simply could not stand. But he is but just one man. What can one man do to make a difference? But he could not sit idly by, atrophying away while the evildoers attempted to spread their sinful seed among the most sacred of institutions. So he stayed up, way past his 9 p.m. bedtime, and he ran to the Wal-Mart, and he grabbed some glue, some printer paper and a pair of scissors. He knew he must have looked silly, bent over his workbench, feverishly cutting and pasting, cutting and pasting, that's good, that'll work, no, it must be PERFECT! His handiwork would change the world. He knew it. It was his quest, and he would not be denied.
Do you know how embarassing it was to show up at the ballpark and see someone wearing the exact same thing? Was totally like prom.
We know we're a Midwesterner, and a Cardinals fan, so we're certainly biased. But: Sometimes, St. Louis is just the most beautiful place on earth. It makes one's heart ache.
And then we finally went inside, and were greeted with this. We looked at this exact scene for two hours. And then they told us we could go home. We were extremely frustrated by the rainout and having to come back to St. Louis two days later.
We are no longer so frustrated.