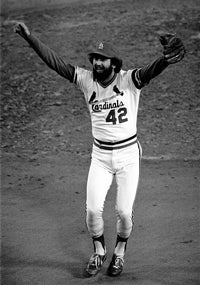 In 1982, we were six years old — we turned seven during the World Series — and could care less about baseball. The principal once called our parents because he thought it was weird that we were reading "Mom, The Wolfman and Me" during recess instead of playing kickball. (And that factoid, surely, will in no way be used against us at any point.) Our father, a baseball nut, had tried desperately to turn us onto the game during teeball, but after we kept putting the helmet on backwards, running to third base when we hit it and chewing on our glove and watching trains go by in right field, he stopped showing up. And who could blame him? His son wasn't a baseball fan. He wasn't sure what kind of parenting backup plan he had to account for that.
And then, that July, he strapped us on the back of his Triumph and blazed west on I-70 to Busch Stadium. It was a hot day, and we drank a Coke. Rookie Willie McGee hit a triple, Tommy Herr homered and Ozzie Smith made one of his aerobatic, Matrix-like plays at shortstop, and the Cardinals won. Our dad looked over and noticed, amazingly, that his son had a goofy-ass grin on his face, like he'd found a toy he'd never get tired of playing with.
The rest of that season, we went to every Sunday afternoon home game — you could get to Busch an hour-and-a-half early and buy bleacher seats for six bucks — and suddenly, hey, the Cardinals were the family obsession. You do not want to know how many different Topps cards of Dane Iorg we had. We followed them all season and then, come October, the St. Louis Cardinals, our new best friend, had won the World Series on a Bruce Sutter splitter past Gorman Thomas. We jumped, we cheered, we danced .. we were seven years old, and we were very happy. This baseball stuff was easy! The Cardinals just win the World Series every year!
And here we are, tonight, with the Cardinals playing at home with a chance to win the World Series ... for the first time since 1982. We will be at Busch Stadium, with our parents, hoping to jump and cheer and dance. Nothing about our life is the same as it was when we were seven — except for this. If that's not an example of why sports matters, and why we gleefully give up so much of our lives for it, we don't know what is.
The Cardinals might very well lose tonight — we are 0-7, after all, and there's still a distinct chance this puppy's not gonna beat the rain — but just to be there for the possibility ... well, we'll never get tired of playing with this toy.