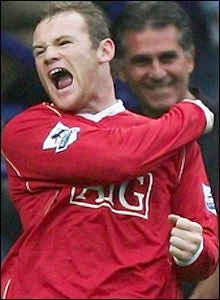 Bolton 0 - 4 Manchester United. Wee Wayne Rooney posted a hat trick earlier today, leading Manchester United to a 4-0 pounding of Bolton. The end of his eight-game goal-scoring drought prompted Rooney to burst into a rendition of Olivia Newton-John's Summer Nights. The win puts Manchester United back atop the standings, tied with Chelsea in points, but ahead on goal differential.
Sheffield United 0 - 2 Chelsea. Chelsea, meanwhile, kept pace with a 2-0 victory over Sheffield. The Blades gave Chelsea a pretty good match, at least in the first half. But Danny Webber struck a 17th minute penalty kick a lot like you'd imagine Lou Holtz might have, and Chelsea's third-string keeper made the save. Frank Lampard scored on a free kick just before the half, and Michael Ballack scored in the 49th minute to put it out of reach.
Liverpool 3 - 1 Aston Villa. Liverpool played probably their best game of the season, getting goals from Dirk Kuyt, Luis Garcia, and Peter Crouch (my brother calls him "Crouchie") all in the span of 14 minutes. Liverpool remains 11 points back of Chelsea and Manchester United. In other fantastic Liverpool news, a fan of theirs who was convicted of attempted murder for hitting a bartender in the head with a paving stone is being transferred from a Bulgarian prison to a British one. That'll get the boys fired up.
Other scores:
Arsenal 1-1 Everton
Fulham 0-1 Wigan
Portsmouth 3-1 Reading
Watford 0-0 Tottenham
Newcastle 0-0 Charlton