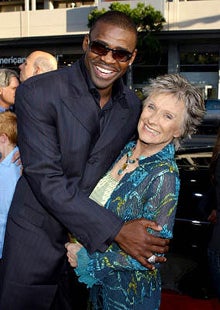 As we approach the time of giving of thanks and reminisces of much Native American bloodshed — and we scream to the heavens that we won't be able to watch the Thanksgiving night game because Time Warner still isn't showing The NFL Network in New York City — we look back to last Thanksgiving and an occasion of true American holiday celebration: When Michael Irvin was arrested for having a crack pipe in his car.
Irvin's explanation, that he had taken the crack pipe from a friend and hid it in the exact place police could find it, was found dubious by several observers, including Jason Whitlock, in a precursor to his inevitable exit from the network. (Irvin was suspended for one week after the incident.)
We have no reason to bring this up again other than to say that we're happy Mr. Irvin is settled back into his job — really! — and that it's important to be careful of Cloris Leachman and her crack pipes this Thanksgiving.
Michael Irvin's Curious Company [Deadspin]
Analyzing Irvin's Explanation, Matlock-Style [Deadspin]
Beleagured NFL Countdown Closed Captioning Typists Get One-Week Reprieve [Deadspin]