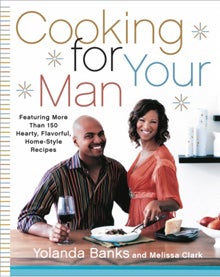 It's important to remember your duties as the wife of an NFL quarterback. You're required to show up at charity functions, look the other way on those road trips, make sure your eye makeup is spackled on and, of course, making sure your fumbling, erratic husband is properly fed. Eventually, they'll even let you write a book about it, even if your husband happens to be Tony Banks.
Because the recipes in Cooking for Your Man have passed the rigorous "Tony test," readers can be sure every course, from appetizers and salads to soups and stews, hearty entrees to luscious desserts, will be cheered by even the most finicky husband, boyfriend, dad, or brother. Illustrated with color photographs of a selection of the mouthwatering dishes as well as charming family photos, Cooking for Your Man sacks fussy, time-consuming food and turns any home cook into an MVP.
Best part? The lead blurb on the book is by none other than Drew Bledsoe's wife. ("My quiche is wonderfully disorienting!") Other testimonials were expected from the wife of Heath Shuler, from the wife of Ryan Leaf and from Kordell Stewart.
Cooking For Your Man [Broadway Books]