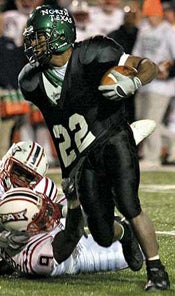 Far be it from us to tell someone how to run their Division I-A football program, but we think as far as dysfunction goes, the North Texas Big Green take the proverbial taco.
Here's what's going on over there, all in the wake of the firing of head coach Darrell Dickey:
• A top booster vowed to withhold a $1 million donation in protest of the coach's firing.
• Showing the class of the lame duck, Dickey — in an apparent attempt to piss of the athletic director and the schools uniform sponsors — "snuck new black uniforms onto the team without the school's permission. The rec-league quality jerseys didn't contain the names of players or the school and conference logos."
• Just for good measure, the offensive coordinator put the receivers coach in a headlock at halftime.
You know, with all this going on, you'd expect North Texas to be a powerhouse, but they are not. They are 3-8.
You know what caused all this? The eBay.
Fired North Texas Coach in Black Mood [Workbench]