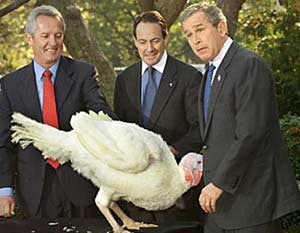 Well, we figure most of you have skipped out of the office for the long weekend, so we figured we might as well do the same; it's off for Thanksgiving for us now. We were considering doing one of those "We're Thankful For ..." stories, that pointed out all the Crazy and Wacky things in the world of sports, but then we realized that every newspaper in the country probably had that covered.
So, enjoy the games tomorrow, eat until you feel like the planets and the stars are crammed into your jeans shorts and are desperately trying to escape — just eat until you look like Mangini! — and try to be safe on the roads out there. All kinds of 90-year-old ladies are out on the road for Thanksgiving for the first time since last Thanksgiving, so go ahead and ignore that left-turn signal of theirs. They don't know it's on.
We're taking tomorrow off, but we'll be back on Friday to play clean up. Enjoy!