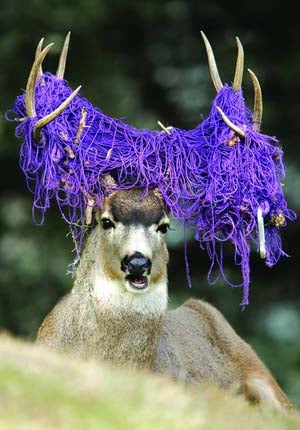 And for the fourth straight year, the family volleyball portion of Ted Nugent's birthday barbeque is completely ruined ...
It's a well-known fact: deer hate net-related sports. We give this one, in Colorado as photographed by the Durango Herald, about three hours before it is shot by an enraged Jeff Nygaard.
Anyway, filming on Larry Csonka's new wildlife series on Versus, Hunting for the Holidays, began recently (it debuts on Nov. 30), and we'd give anything for this to be the first thing he spots.
In next week's episode, Mark Trail will explain how the deer will later make this into a festive holiday sweater.
Hunting For The Holidays [Versus]
Introducing The Mark Trail Drinking Game [Deadspin]
(UPDATE: This picture just gave Chad Johnson and Chris Kaman all kinds of excellent ideas for styling techniques.