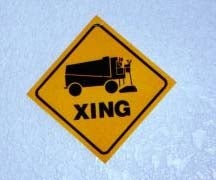 You may not believe this, but in some cities it's still illegal to steal a couple of Zambonis and head downtown for burgers. (Or, as we call it, "fun.)" The nut graph from the Seattle Post-Intelligencer:
An anonymous caller who alerted a telephone hot line set up by Boise Mayor Dave Bieter was gassing up his car at a nearby service station at about 12:30 a.m. on Nov. 10 when he saw the Zambonis roll through a Burger King drive-through, order food, and then return to the skating rink.
The two part-time Zamboni drivers were promptly fired by Boise Parks and Recreation, in part because they made an unauthorized fast-food run with two giant ice-grooming vehicles, and in part because well, we're not sure. No one got hurt, nothing was damaged and no one would have been any the wiser if not for the lone witness, who, um, exactly why did people believe the witness again?
We also find it most impressive that the city of Boise has a hotline set up for just such an occasion.
Idaho Zamboni Drivers Fired After Trip To Fast-Food Drive-Thru [Seattle PI]