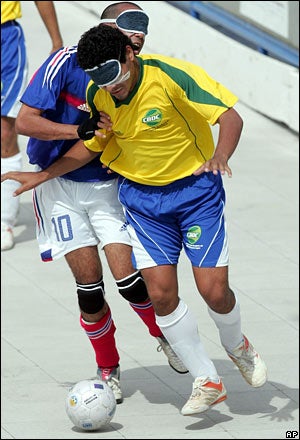 In the grand tradition of Beep Baseball, With Leather brings us the blind soccer World Cup, which we are immediately dispatching David Hirshey to cover.
According to the BBC, the ball "contains small pieces of metal so that the players can hear it." Our favorite part, though, is that the crowd is "expected to keep its excitement to a minimum," which, considering the players are blind and the game is soccer, shouldn't be too difficult. (Sorry.)
The game isn't truly pure, in a blind sense: The goalies are allowed to see, proving the old adage: In a pitch full of the blind, the two-eyed man is goalie.
(By the way, they're wearing the eye guards for protection, not to make sure that any "sighties" sneak on the pitch.)
The Blind World Cup [With Leather]
Argentina Holds Blind World Cup [BBC]
Beep Baseball [Deadspin]
David Hirshey Is The Closer [Deadspin]