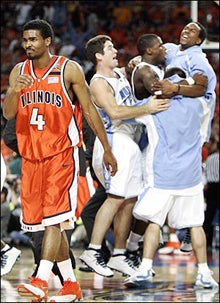 Well, you know the college basketball season is officially upon us with the ritualistic beatdown of the Big Ten at the hands of the ACC starts showing up on ESPN. With the precursor of N.C. State trouncing previously undefeated Michigan already pushing the ACC into a 1-0 lead last night, the ACC is well on its way to its eighth straight victory.
Looking at the pairings, it doesn't look pretty. Wisconsin looks like the most likely winner, with Indiana, Penn State, Northwestern and, yes, our Illini, whose best two players are hurt and aren't particularly strong this year anyway. We're still stuck on the ultimate ACC/Big Ten Challenge from two years ago anyway; if Luther Head would have hit that late 3-pointer, we're convinced they would have won. They would! They would!
Anyway, we know this is an ESPN-created event, but, jeez, these days, what isn't? It means college basketball is upon us, and, as you might remember from our NCAA Tournament orgy last year, we kind of love the college basketball. Just remember to hit mute: Vitale's still alive, after all.
Michigan: The Defense Rests [Big Ten Wonk]