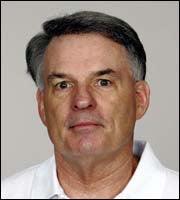 You know, it turns out that seeking out your top offensive minds from Idahoans accustomed to making waffles and pouring orange juice down the gullets of nostalgia-seeking tourists isn't the best way to run a football team.
In a move that probably should have been made with seconds of the initial decision, Raiders "coach" Art Shell demoted offensive coordinator Tom Walsh yesterday. Walsh had famously been the mayor of Sun Valley, Idaho, where he had run a bed-and-breakfast. The Raiders are in last place in pretty much every major offensive category, though they do remain first in pillow mints.
How bad was Walsh this year? Quarterback Andrew Walter had been openly critical of his play calling. Andrew Walter. When Andrew Walter is on your case, it's probably time to put the apron back on.
Raiders Demote Offensive Coordinator Walsh [San Jose Mercury News]