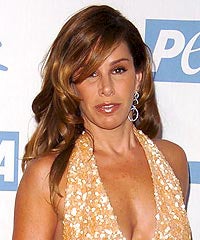 This Friday, the fine folks of NASCAR are holding their yearly awards banquet in New York City, in which a bunch of people who do not ordinarily feel comfortable with tuxedos wear tuxedos. (You know, like every other awards show, except with chaw.)
The event is becoming kind of a big deal. How do we know? NASCAR has hired Melissa Rivers to interview people on the red carpet. No, that's really happening. There's only one joke to make here, and the folks at TVSquad have already made it.
Melissa Rivers: "Who are you wearing?"
Nascar driver: "Uhhh... Viagra, Exxon, Tide..."
This is being aired on SPEED TV, so set your Tivos to "regurgitate breakfast."
Melissa Rivers, Meet NASCAR [TV Squad]