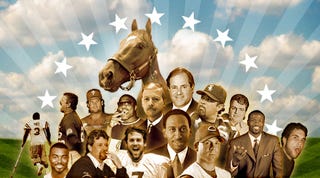 Just two more first-round matchups left until the Elite Eight, and we've got a potential barnburner here today. (Does anyone other than Musberger use "barnburner" anymore? We like the term.)
It's No. 7 seed Ozzie Guillen — unfortunately in the opposite bracket of Jay Mariotti — against No. 10 seed Stephen A. Smith, two people whom, if they had a conversation, would be surprisingly boring, probably because it would be televised on ESPN 2 around 11 p.m., maybe, we think, whatever time they're running it now.
LET'S LOOK AT THE MATCHUP BECAUSE EVERYTHING IN THIS MATCHUP IS IMPORTANT.
No. 7 Seed: Ozzie Guillen
2006 Highlights
Controlled your ass.
Sent down a poor pitcher for not hitting someone on the other team.
Restored a somewhat damaged image by picking a fight with Jay Mariotti.
Drank down by several Chicago-area gay men.
Tried not to notice A-Rod's erection.
No. 10 Seed: Stephen A. Smith
2006 Highlights
Called David Letterman "Jay."
Begged for audience members.
Enjoyed many Cheesy Doodles.
Encouraged his audience to boo his guests.
Attempted to blame previous transgression on us.
Solved the crisis in the Middle East.
So, go vote: Who advances to the Elite Eight?
Gawker Media polls require Javascript; if you're viewing this in an RSS reader, click through to view in your Javascript-enabled web browser.