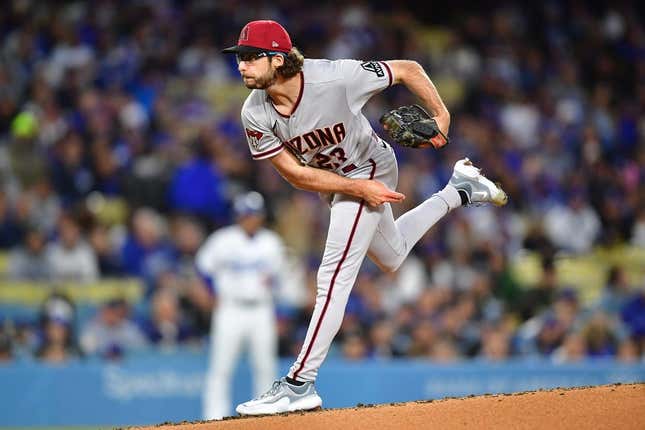 Two right-handed pitchers who finished in the top eight in the National League Cy Young Award voting last season will be paired Tuesday afternoon when the visiting Arizona Diamondbacks oppose the San Diego Padres
Both are off to slower than expected starts in 2023.
Arizona's Zac Gallen, who finished fifth in the 2022 Cy Young race, gave up five runs on six hits and three walks in just 4 2/3 innings on Opening Day at Los Angeles to take the loss against the Dodgers. Gallen, 27, also struggled in spring training, posing an 8.27 ERA in four starts.
The Padres will counter with Yu Darvish, who finished eighth in the 2022 Cy Young voting. He spent almost all of the spring with Japan's World Baseball Classic championship team. However, he didn't pitch as many innings as expected in the WBC, meaning Tuesday will be his season debut as he wasn't stretched out enough to make the Opening Day start
"Yu did get up to 80 pitches last time," Padres manager Bob Melvin said, speaking of a minor league camp game in Arizona. "If you were to ask him, he'd say he has 100 pitches in him (on Tuesday). We'll see how it goes. We will talk to him before. If he threw 80 before, there's nothing to suggest he wouldn't get at least that.
Among the batters Darvish faced in Arizona was Fernando Tatis Jr., who is ineligible to play for the Padres until his PED suspension expires April 20. But that wasn't like the major league lineup Gallen faced at Dodger Stadium
"He had good stuff," Diamondbacks manager Torey Lovullo said of Gallen's Opening Day start. "He had a little bit of a shaky inning. Didn't put hitters away when he was ahead in the count. That's not the norm for him.
Gallen goes into Tuesday with a 0-1 record and a 9.64 ERA. Darvish last faced major league hitters with a one-inning outing (in which he allowed a homer) against Team USA in the WBC title game on March 21.
Gallen, 27, went 12-4 in 31 starts last season with a 2.54 ERA, a league-leading 0.913 WHIP and a .186 opponents' batting average. The Diamondbacks were 19-12 when he started. When anyone else started, Arizona went 55-76
However, Gallen was 0-1 with a 4.96 ERA and a .273 opponents' batting average in three starts against the Padres in 2022. In eight career starts against the Padres, Gallen is 1-3 with a 3.98 ERA, having given up 20 runs (19 earned) on 37 hits and 24 walks with 43 strikeouts in as many innings
Darvish, 36, finished 16-8 in 2022 during his second season with the Padres. He had a 3.10 ERA and a 0.950 WHIP over 194 2/3 innings covering 30 starts. He had a .207 opponents' batting average with 197 strikeouts against 37 walks
After a decade in the major leagues, Darvish has a 95-75 record with a 3.50 ERA and 1,788 strikeouts in 1,488 innings -- 10.8 per nine innings.
During the offseason, Darvish signed a five-year extension with the Padres that will take him through the 2028 season and his 42nd birthday
--Field Level Media