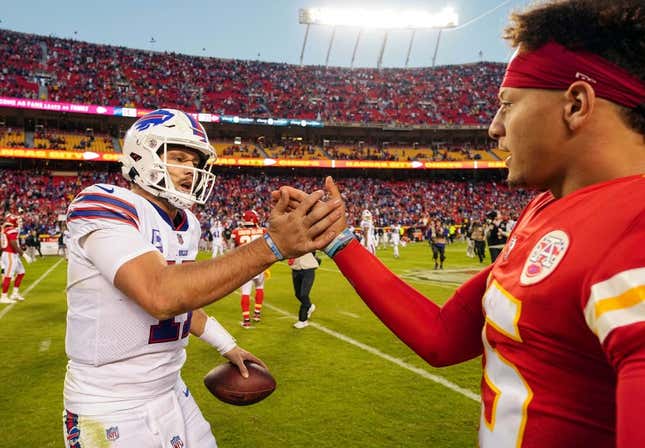 Maybe consuming all 272 NFL regular-season games is on your agenda.
For a more selective audience, we set out to help with a few save-the-date reminders upon the Thursday night release of the 2023 schedule and our picks for the 23 games to watch this season.
With apologies to the Denver Broncos and Arizona Cardinals, New Orleans Saints and Tampa Bay Buccaneers, not every team made the cut.
1. Detroit Lions at Kansas City Chiefs, Thursday, Sept. 7, 8:20 p.m. ET
Undefeated in five Week 1 starts, Patrick Mahomes in primetime to start the season looks spicy with the Lions becoming a featured attraction.
2. Buffalo Bills at New York Jets, Monday, Sept. 11, 8:15 p.m. ET
The "Monday Night Football" opening act is Aaron Rodgers' home debut as Jets QB and his first rumble with the Bills and Josh Allen as division rivals. Damar Hamlin's return to the field in primetime rates as a relevant and worthwhile subplot.
3. New York Jets at New York Giants, Oct. 29, 1 p.m. ET
MetLife Stadium co-tenants haven't been this relevant since the last time they both made the playoffs in 2006.
4. Houston Texans at Carolina Panthers, Oct. 29, 1 p.m. ET
Houston No. 2 pick C.J. Stroud and Carolina No. 1 pick Bryce Young measure up for the first time as pros.
5. Detroit Lions at Baltimore Ravens, Oct. 22, 1 p.m. ET
Not a classic rivalry, this feels like a game that could have either 80 total points or 80 combined rushing attempts.
6. Philadelphia Eagles at Dallas Cowboys, Dec. 10, 8:20 p.m. ET
A game that should be vital in deciding the NFC East brings plenty of peripheral entertainment value.
7. Miami Dolphins at New York Jets, Friday, Nov. 24, 3 p.m. ET
The day-after-Thanksgiving duel on Amazon Prime might be meaningful as a standalone NFL game between playoff hopefuls.
8. Cleveland Browns at Houston Texans, Dec. 24, 1 p.m. ET
Deshaun Watson returns to Houston for the second time as a member of the Browns. The Texans' makeover could be nearing completion, with this appraisal of Stroud likely to draw many eyeballs.
9. Cincinnati Bengals at Kansas City Chiefs, Dec. 31, 4:25 p.m. ET
Burrowhead didn't stick for some reason. But the Bengals and Joe Burrow (3-1 against Patrick Mahomes) aren't going away in the AFC contenders tug of war. Our only contention with this game is whether playoff position will be on the line or if this becomes a rest game in Week 17.
10. Los Angeles Chargers at Kansas City Chiefs, Oct. 22, 4:25 p.m. ET
We don't tire of the Justin Herbert-Patrick Mahomes matchup that has produced a margin no greater than one score in five of six meetings.
11. Jacksonville Jaguars vs. Buffalo Bills (London), Oct. 8, 9:30 a.m. ET
This is the second of two "home" games for the Jaguars as the first team to play back-to-back weeks in London, where Jacksonville is 4-5. They'll be the home team the previous week against the Falcons.
12. New England Patriots at Las Vegas Raiders, Oct. 15, 4:05 p.m. ET
Josh McDaniels is doing Vegas the Patriot Way with Jimmy G. at quarterback, Jakobi Meyers at wide receiver and pass rusher Chandler Jones among his Foxborough imports.
13. Los Angeles Rams at Cincinnati Bengals, Monday, Sept. 25, 8:15 p.m. ET
It's a rematch of Super Bowl LVI and two tight friends coaching teams that appear to be drifting in opposite directions.
14. New York Giants at Buffalo Bills, Oct. 15, 8:20 p.m. ET
Head coach Brian Daboll returns to Buffalo, and here's hoping he brings a few points to keep pace with the Bills.
15. Kansas City Chiefs at New York Jets, Oct. 1, 8:20 p.m. ET
A "Sunday Night Football" marquee matchup that should bring more points than the 20 total the Chiefs and Aaron Rodgers' old team put up when they last met in 2021.
16. Dallas Cowboys at San Francisco 49ers, Oct. 8, 8:20 p.m. ET
San Francisco booted the Cowboys from the playoffs each of the past two seasons.
17. Green Bay Packers at Detroit Lions, Thursday, Nov. 23, 12:30 p.m. ET
Where will the narrative be on Jordan Love and the Packers as they begin a three-game run of marquee timeslots that includes a home date with the Chiefs and Dec. 11 MNF at the Giants?
18. Baltimore Ravens at Cincinnati Bengals, Sept. 17, 1 p.m. ET
Lamar Jackson and the future highest-paid QB in the NFL, Joe Burrow, will wrestle for the AFC North title belt.
19. New York Jets at Dallas Cowboys, Sept. 17, 4:25 p.m. ET
Maybe you heard, the Jets are going to be featured in national TV windows a few times this year. Aaron Rodgers and Mike McCarthy reengage in Dallas.
20. San Francisco 49ers at Philadelphia Eagles, Dec. 3, 4:25 p.m. ET
Raise your hand if you want to see the NFC title game rematch, but this time Brock Purdy has use of throwing arm?
21. Seattle Seahawks at San Francisco 49ers, Dec. 10, 4:05 p.m. ET
Seattle came up short against San Francisco twice in the final month of their season, including the wild-card playoffs, but this rivalry has big-enemy energy. They'll tangle twice in three weeks, this date coming after Seattle hosts the Niners in the Thanksgiving nightcap.
22. Philadelphia Eagles at Kansas City Chiefs, Monday, Nov. 20, 8:15 p.m. ET
Super Bowl rematch and burgeoning rivalry pits Patrick Mahomes and Jalen Hurts at Arrowhead.
23. Buffalo Bills at Kansas City Chiefs, Dec. 10, 4:25 p.m. ET
The Bills served KC one of its three losses in 2022. The Josh Allen-Patrick Mahomes matchup has risen to Elway-Marino, Manning-Brady levels.
--Field Level Media